Sport Fishing – Wreck Fishing – Reef Fishing – Boat Charter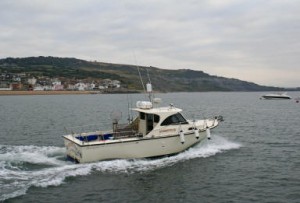 AMARETTO III is a fast angling boat based at Lyme Regis Dorset. Lyme Regis is an ideal location from which to fish the wrecks and reefs of Lyme Bay.
 
TECHNOLOGY
Comprehensively equipped with a chart plotter for navigation and wreck location; one colour and one mono sounder / fish finder; two GPS with differential for pinpoint accuracy; two VHF radios; radar and telephone.
SAFETY
Amaretto meets all the MCA requirements – licensed and insured to operate up to 60 miles off shore.
 
SKIPPER
Capt Steve Sweet holds an RYA Offshore commercial ticket, is a member of the Professional Boatman's Association and has been operating boats for over thirty years.
A very keen and enthusiastic angler with a vast experience, including international sport fishing and game fishing.
Steve also is the boat competition secretary for the Lyme Regis Sea Angling Club.
 
FISHING
The Amaretto experience is very much based upon light line sporting angling and fish conservation.
Charters can be arranged for sport fishing inshore; wreck fishing, reef fishing and even fly fishing.
TACKLE / TUITION
Rods are available for hire at £5 per session. These are sporting rods and not the usual "broom handles".
Tuition is also available – advice is free!
Two happy customers with 8lb bass.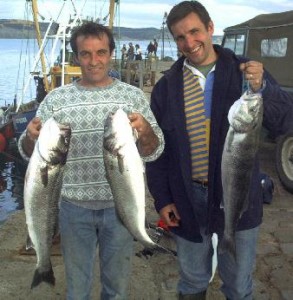 CHARTER
Ideally 8 persons can fish in complete comfort, but 10 can easily be accommodated if required. The boat can be chartered by the day or hour. Please ring to check availability of single places.
PARKING
Free parking is available together with a shuttle service to and from the boat.
 
PRICES
The whole boat can be chartered for £360 for an 8 hour day.
Longer periods are available if required.
The hourly charge is £50 (minimum 2 hours. Please ring to check on the availability of individual spaces.
 
Contact
Steve Sweet, High Cliff House, Lyme Regis, Dorset, DT7 3EQ
Telephone: 01297 445949   Boat: 07836 591084
E-mail: amarettofsh@aol.com
Lyme Bay boat charter with Steve Sweet fishing the wrecks and reefs.