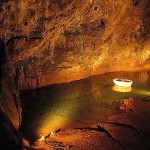 There is nowhere like the South West for mysterious chasms, caves and grottoes. The lighting in these caves make an exhibition out of the natural colours and formations. You will see stalactites and stalagmites which have formed over millions of years and how these caves were carved out of the sub rocks by ancient rivers.
Cheddar Gorge, in Somerset, is well known for it's caverns, tunnels and grottoes.
The smugglers confused the coast guards most of the time by hiding their contraband in caverns and secret tunnels.
Cheddar Caves & Gorge Between Bristol and Exeter. The gorge is a place of wild beauty to explore with a friend Cheddar man, 9000 years old was found in Gough's cave. Crystal quest, lookout tower, gorge tour etc. Stalactites and stalagmites.
Kents Cavern Torquay
Devon Torquay's Famous Caves Encounters with the past. Face in the rock. Stalactites and stalagmites. Flint hand axes 500 millenniums old.
Wookey Hole Caves Wells
Britain's most spectacular caves Deep under the Mendip hills. The legend of the witch. The source of the river Axe runs through the caverns and tunnels. 2 million years of history.