Lyme Regis Fossil Festival (normally held in early May each year) is one of the biggest annual events in the Lyme Regis calendar to be held in Lyme. The fossil festival has been going for over a decade and attracts thousands of people from all over the UK and worldwide! The fossil festival is one of the main events of the year and is a great day out for all the family.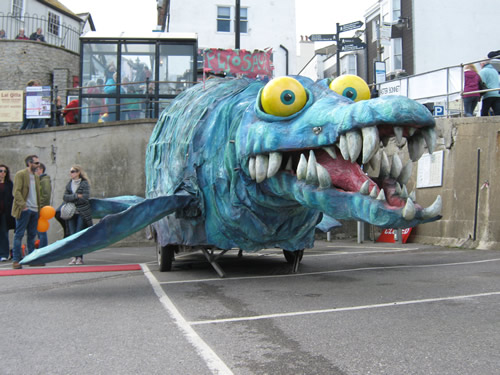 Even if you don't think you like fossils that much you will definitely find something that will interest and amaze you about fossils on display – take the Ichthyosaurs an amazing prehistoric creature found right here in Lyme Regis Dorset!
The fossil festival is normally held on the main beach in a specially set up tented area (no worries about the weather!). There is normally an entry fee to enter (sometimes there is a free day at the end), but it is usually less than £3 and well worth it considering the entertainment value. Time flies by at the fossil festival, its easily possible to spend a good couple of hours looking round all the many stalls and joining in the activities with the children.
By the way its not just fossils on display but a plethora of earth, ocean science and local university stalls with friendly and knowledgeable people ready to talk to you about fossils, the sea, the local area, local nature, your career and more! Lyme Regis is one of the most famous places in the world for its Jurassic era fossils. Do not miss this event!