The Gables self catering accommodation – No longer Trading Sorry
The Gables  accommodation in self catering holiday apartments in Lyme Regis Dorset UK with car parking
THE GABLES HOLIDAY APARTMENTS
No Longer Trading – Sorry
Several private holiday apartments that sleep two to six persons.
Open all year. Short breaks on offer.
The Gables is ideally situated, being just 100 metres from the seafront, adjacent to shops and centrally positioned.
Shopping and eating out are so convenient.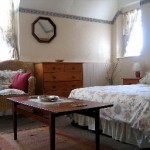 We offer a choice of apartments, tastefully and individually furnished to a good standard, comprising a fully equipped kitchen including microwave oven, bedroom and bathroom, and spacious living accommodation with colour television and video player.
The holiday apartments will sleep from two to six persons.
All beds are made up with duvets and linen is provided – we only ask you to bring towels.
Electricity is supplied by £1 meters.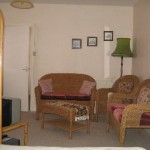 There is a laundry on the ground floor and a private car parking at owners' risk at the rear of the property.
Lyme Regis is a mediaeval port full of quaint old streets and historic buildings.
As a resort, it is considered quite unspoilt, but has most of the shops and amenities that one would require.
The area is renowned for its beauty and temperate climate all the year round making it ideal for coastal and inland walks. There are numerous famous and popular attractions in the immediate area and it is an ideal centre from which to explore the other historic and exciting towns nearby.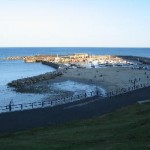 A most attractive feature is The Cobb (first built around 1300) full of small fishing boats and yachts. From here you can take a fishing trip or simply enjoy a leisurely stroll around the harbour.
There are a host of leisure activities to enjoy – sailing, power boating, a cliff top golf course and a bowling club.
THE GABLES HOLIDAY APARTMENTS
This flat is outside the grading system and is available for adults only
Short stays – Please phone for availability and prices
Towel packs – one hand and one bath towel £3.00 per week. Tea towel is provided
The flat is on the ground floor at the front of the building and comprises the following accommodation
Lounge has a comfortable three piece suite and antique furniture. There is a fireplace with electric fire, television, video and music centre
Bedroom 1 has a 4' 6'' double bed and Old Charm furniture
Bedroom 2 has a 4' 0'' double bed Old Charm wardrobe and mahogany chest
Bathroom has WC shower and basin
Kitchen has light oak units, fridge, cooker, hob, microwave and dishwasher
Dining area with sliding door to private patio with chairs and table
The Gables Holiday Apartments
What we do
Our ambition is to provide a good standard of accommodation in a brilliant location at a reasonable price. Having arrived and parked your car on site you are 100m walk from The Marine Parade and the town which has everything you may require including two supermarkets which are open early until late
Accommodation standard
The accommodation is inspected yearly and is rated three star. This is not the same as a three star hotel but is a good standard for a holiday home providing everything you require. We include bedding so there is no need to bring your own. We reinvest yearly to improve what we offer while maintaining our reasonable prices
About us
We moved to Lyme Regis permanently in 1987 having previously lived and worked in Oxfordshire. Our children were becoming independent and we decided to spend our future in the place we had grown to love having spent many holidays and weekends in a cottage we owned in the old town a short walk from the sea
The Gables, an established and successful self catering business provided us with a project and occupation. The location and facilities offered everything a family or group require for a seaside holiday
Description
The apartments are in three interconnected two storey buildings in the old town. Because we are in the town the ground floor accommodation has little outlook but those on the first floor have glimpses of the sea and old town. The car park is at the rear.
Facilities
Facilities include a guest laundry and lounge where you can relax away from the family and enjoy a coffee and read what the area has to offer. The apartments have fully equipped kitchens dining and lounge areas with digital TV which after some teething problems now usually provide lots of channels. DVD and VHS players are available and we have a good stock of films for all ages. We also have games, books and beach toys for your use. There are outside tables and chairs.
Our service
We live very close the The Gables and are on site every day to greet guests and do what we can to ensure you enjoy your stay.
Details of apartments
The attached plans show the layout of the apartments. Each apartment is different and one will usually provide accommodation to suit your family or group requirement. They sleep from 2-6 persons. All beds are full sized except the twin beds in apartment 11and the bunk beds in flat 6 which are smaller. The bathrooms have either bath with shower over or shower only
Electricity and heating
All electricity including that used for heating water and space heating is provided via a £1 coin meter. Background heating is provided from October to March in the mornings and evenings. Electric fires are provided for your use.
Revised April 2013
Location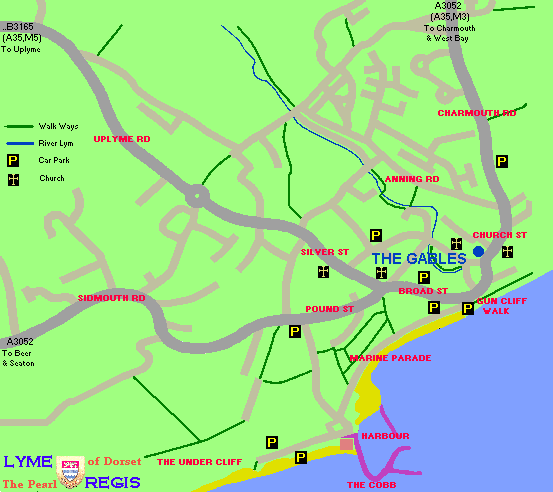 A Tourist Information Guide to the Historic Resort of Lyme Regis, Dorset, UK.
The historic resort of Lyme Regis, Dorset, UK
The Lyme Regis activities, fishing, accommodation and the Lyme Regis tourist information guide.
Social Share